30th Anniversary of the Exxon Valdez Oil Spill
EVOSTC 30th Anniversary: March 24, 2019
To commemorate the 30th Anniversary of the Exxon Valdez Oil Spill, following is a summary of the public outreach products available for use by venues in and out of the spill-impacted region and to raise awareness. The EVOS Trustee Council extends it appreciation to all those who contributed their time and expertise to these excellent products.
A SHORT FILM – "Listening to the Sound: The work of the Exxon Valdez Oil Spill Trustee Council" (approx. 18 min). This film includes historic footage of the spill, new interviews and information on the scientific and habitat work funded by the Trustee Council since the spill.
Presentation – "30 years after the Exxon Valdez Oil Spill: Recovery Status and Current Restoration Efforts" (approx. 49 min).
A SOCIAL MEDIA CLIP based on the short film is available for download and use on social media platforms.
A POSTER available for display alongside the film or media clip is available here.
Check out our TRAVELING DISPLAY – two panels with general EVOSTC information: contact our office (907-278-8012) if you are interested in borrowing a set for display in your organization (click to view each PDF).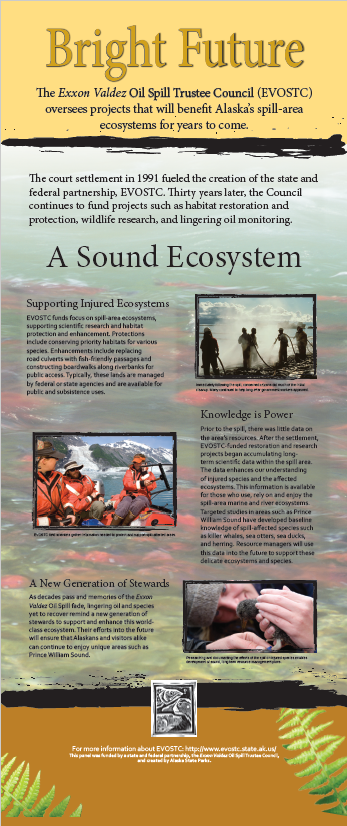 (Click to download)
EDUCATIONAL PANELS for select EVOSTC-funded habitat protection sites, designed in collaboration with the Alaska Department of Natural Resources- Division of State Parks Outdoor Recreation, are installed at select parcels that have been protected as part of the EVOSTC habitat protection and enhancement programs. These panels are installed onsite and include maps of the areas, photos and text regarding the history, culture, facts about species and their lifecycles or other interesting information, such as recreational and subsistence uses of the land, etc. Select parcels include Mineral Creek, Diamond Creek and Eshamy Bay (in progress) and Eagle Rock Boat Launch, an EVOSTC-funded project on the Kenai River.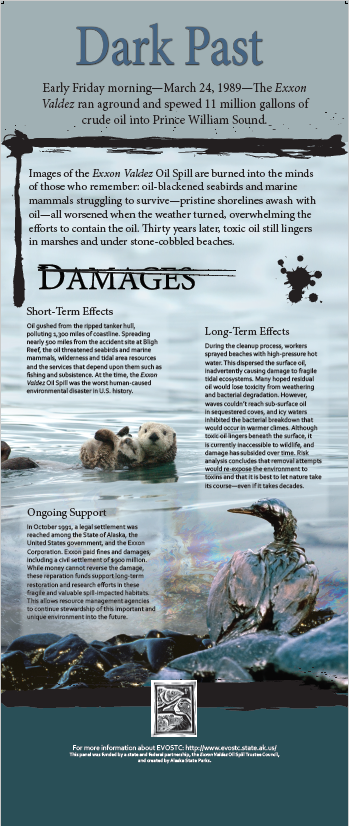 (Click to download)
Three examples of panels for Eagle Rock Boat Launch, an EVOSTC-funded project on the Kenai River.
VENUES that we are in communication with regarding hosting the film and/or incorporating the traveling panels in commemoration of the spill include (not a complete list):
Alaska SeaLife Center
Chugach Regional Resources Commission
Alaska Marine Highway System
Anchorage Museum
Anchorage School District
Alutiiq Museum
Baranov Museum
Cordova Center
Pratt Museum
Valdez Museum
USFS Begich Boggs Visitor Center
Crooked Creek Visitor Center
Kodiak National Wildlife Refuge Visitor Center
Prince William Sound Science Center/Cordova Center
Chugach School District
Kenai Watershed Forum
Kenai National Wildlife Refuge
Kenai Peninsula Borough School District
Kenai Fjords National Park Visitor Center
AK Public Lands Information Center
Center for Alaskan Coastal Studies
Alaska Marine Science Symposium
Alaska Forum on the Environment
Prince William Sound College
Alaska State Museum
Alaska State Library
Seward Library/Museum
Kodiak Island Borough School District
Cordova City School District
Valdez City School District
ARLIS
Events attended by EVOSTC staff include (not a complete list):
Alaska Marine Science Symposium: Exxon Valdez Oil Spill Trustee Council 30th anniversary film & Display, 30th Anniversary of the Exxon Valdez Oil Spill session Opening our eyes to ecosystem change: the scientific legacy of the Exxon Valdez oil
Alaska Forum for the Environment February 14th: Exxon Valdez Oil Spill Presentations and Keynotes, regarding spill response, changes in oil spill law, spill impacts on subsistence and cultures, and EVOSTC activities.
Kachemak Bay Shorebird Festival May 2019 Homer. Details to be determined.
Wildlife Wednesday Series hosted by the Alaska Wildlife Alliance. Video Presentation and Q&A for students at Superior Elementary, Boulder Valley School District, Superior, CO. Spring 2019.
Details to be determined.
The Alaska Resources Library and Information Service (ARLIS)
This FAQ (PDF) is an overview of the comprehensive collection of Exxon Valdez Oil Spill materials, FAQs, Links, and Unique Resources available at the Alaska Resources and Library Information Services
The Exxon Valdez Oil Spill Trustee Council (EVOSTC) is one of the eight Founding Partners of the Alaska Resources Library and Information Services (ARLIS) and has entrusted ARLIS with its extensive collection of materials on the Exxon Valdez oil spill (EVOS). Many of the items in this collection are unique and available only at ARLIS.
ARLIS has also acquired EVOS materials representing diverse perspectives from state and federal agencies, universities, the private sector, the media, and the general public. Topics include the grounding of the tanker, oil spill response, cleanup, damage assessment, impacts to the environment and people, research, and restoration.
The collection contains books, reports, maps, photos, documentary films, video footage, and data, in print and digital formats. ARLIS even has works of poetry, novels, children's books, a theatrical play, and a made-for-TV movie, all pertaining to EVOS.
The FAQ provides links to numerous full-text publications and many more are available full-text through the ARLIS catalog at www.arlis.org. Most items may be checked out. ARLIS also loans to other libraries around the world. People who are not located in Anchorage may borrow ARLIS materials through their local library.
ARLIS provides excellent support, including providing materials and information to the public, government agencies, media, students, scientists and others. For example, in 2018, ARLIS activities included:
receiving 49,366 visitors
answering 4,476 requests for information and materials (including 143 for EVOS information)
providing web access to 2,500 digitized EVOS photographs
receiving 173,715 hits on the EVOSTC collection (1,389,957 hits since its launch in October 2010)
providing digital copies of EVOS video footage upon request
providing 393,187 full-text articles via the ARLIS website
scanning 102 boxes of EVOSTC files pertaining to the Trustee Council Official Record and the Natural Resource Damage Assessment (NRDA) files as part of two ongoing projects
assisting users nationwide and internationally with information pertaining to EVOS and Alaska's natural and cultural resources.