Council-funded projects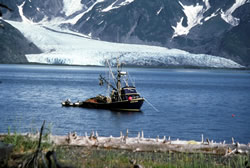 The Council has made a concerted effort to involve local communities affected by the oil spill in the restoration program. Projects funded include habitat enhancements of interest to sport and commercial fishermen, restoration of subsistence resources, food safety testing, and public outreach and participation.
Here are some highlights that have resulted from the Trustee Council's effort to incorporate meaningful public participation and community involvement into the restoration program:
Chenega residents worked in conjunction with NOAA to clean up twelve local mussel beds.
Local community members helped on a project to clean the Chenega area shoreline from residual oil on five cobble-boulder armored beaches.
Alaska Native community members assisted NOAA on an extensive survey of lingering oil. Communities identified sites important to them that they wanted evaluated for residual oil and participated in the survey work.
Waste management projects were funded in lower Cook Inlet, Kodiak Island, and Prince William Sound to address marine pollution in proximity to local communities and make improvements in local waste management infrastructure.
A project to restore coho salmon runs, producing 2,000 to 3,000 adults for harvest in a subsistence fishery near Tatitlek.
The Qutekcak hatchery in Seward produced over 800,000 clams during each year of a pilot project to seed clam beds for subsistence use near Port Graham, Nanwalek, and Tatitlek.
Partial funding to rebuild the Port Graham salmon hatchery that was destroyed by fire in 1998. The hatchery provides pink, sockeye, and coho salmon for the benefit of subsistence and commercial fishermen.
A project initiated by locals in the Native Village of Perryville to rebuilt a declining coho salmon run on the Kametolook River used for subsistence.
Restoration and recreation enhancements along several miles of the Kenai River which included access stairs, floating docks, interpretive displays, and streambank restoration for the benefit of sportfishing and tourism.
Grant funds to Chugachmiut, Inc. to develop a regional archaeological repository in Seward, local display facilities in Chenega Bay, Tatitlek, Cordova, Valdez, Port Graham, Nanwalek, and Seldovia, and traveling exhibits.
The Resource Abnormalities Study trained 61 volunteers in 19 spill area communities to take samples of abnormal animals harvested for subsistence. Samples were tested for hydrocarbons and human health effects at the National Marine Fisheries Service laboratory in Seattle. A Resource Abnormalities Hotline was established and the project communicated information on subsistence food safety to communities.
Construction of the Alutiiq Archaeological Repository in Kodiak was funded to protect archaeological resources and educate the public about Alutiiq culture. In addition, funding was provided to train volunteers to monitor and act as site stewards of archaeological sites on the Kenai Peninsula, Kachemak Bay, Uganik Bay, Uyak Bay, and the Chignik area of the Alaska Peninsula.